KMD Plastifizierungstechnik GmbH launch the latest Mini design - the Benchtop minitype Spunmelt non-woven lab equipment, mini fiber spinning lab equipment and mini extruders
Date: September 4, 2023
After KMD Plastifizierungstechnik GmbH officially launched the first benchtop Minitype Spunmelt non-woven equipment at Index2023 in Switzerland in March 2023, it has attracted extensive attention from industry experts and scholars in R&Dgroups. After constant discussion and verification, KMD continues to upgrade and improve the configuration scheme, optimize the product series, and systematically launch the latest integrated model configuration, which optimizes the Mini design of Spunmelt non-woven equipment & fiber spinning equipment. The micro-design of benchtop equipment will give full play to the many convenience brought by the miniature, and significance to the experimental exploration and rapid preliminary test for new materials and new processes in melt spinning.
KMD Mini type benchtop equipment include three main categories: Benchtop Spunbond & Melt-blown machines, Benchtop POY/FDY spinning machines, and benchtop extruders. Based on the function of the conventional equipment, the upgraded configuration complies with following design principles:
Compact design, small size, easy and fast installation;
Single hole/fewer holes spinneret designs are optional;
Mono-&Bi-component are optional;
Very little raw material consumption;
Integrated & intelligent control, easy to operate;
Fast test speed, greatly shorten the complex and lengthy R&D cycle;
Ultra-low energy consumption, friendly to the environment;
Components and configuration can be customized;
Economical price, easy to invest.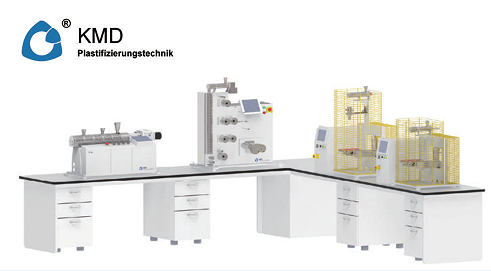 In order to enable more customers to get convenient services and provide a variety of choices, KMD has recently authorized Triumph Equipment Manufacturing (Yantai) Co., Ltd. to produce several newly launched benchtop spinning machines & Spunmelt non-woven lab machines in Asia. For more information, please visit www.kmd-industrie.de or email to info@kmd-industrie.de
Combining KMD's specialties in the field of plasticizing technology/ patent extrusion equipment, fiber lab equipment and Nanomaterials, KMD will keep on providing professional solutions for R&D and product differentiation in the global fiber field.
www.kmd-industrie.de info@kmd-industrie.de